Welcome !
Rely on our quality developed Container Corner Castings, Gate Valve Castings, Console Castings, etc.
About Us
Driven by the aim to expedite exchange of supreme quality castings, Taurus Technocast, stepped in the industry in the year 2004. Our proprietorship company is based in Ahmedabad (Gujarat, India) as a manufacturer of Pressure Seal Gate Valve Castings, Container Corner Castings, DPCV Disc Castings, Gate Valve Castings and numerous other products. Our offerings are in complete compliance with industrial standards and made in standard specifications to suit diverse applications.
Our professionally managed company has support of smart and knowledgeable team. Our experts keep themselves up to date with latest market trends and ensure clients requirements are met in the right manner.

We, in association with our competent procuring agents source finest raw materials, check them at our unit on possible parameters and indulge in production of supreme quality castings. Apart from our sourcing agents, we take pride in our supportive quality auditors who test entire collection on possible grounds and ensure flawlessly developed items are delivered to customers.
Quality Assurance
Committed to delighting customers, our company ensures premium in quality castings are supplied to different companies. For the same, we invest in supreme quality raw materials and apply latest production techniques. As per our quality policy, we test each of our casting on structure, design, dimension, functionality and other grounds and pack with safety for safe delivery. It is due to our quality policy of testing products that we have been able to acquire remarkable success in the Indian market.
Application of Products
Our collection of castings finds use in the following sectors:
Chemicals
Construction

Earth Moving
Oil & Gas
Petrochemical
Power Plants
Refineries and more
Production Excellence
At Taurus Technocast, we are devoted to delighting customers which is why we are maintaining advanced production unit and producing Pressure Seal Gate Valve Castings, DPCV Disc Castings, Container Corner Castings, and more in a quality based manner. All these machines fitted at our unit are upgraded from time to time. Our experts ensure the best use of technological advancements is done for faster and better development of products. Using hi-tech equipment, we produce nearly 50 tonnes of castings and satisfy demands of industrial users wanting urgent deliveries.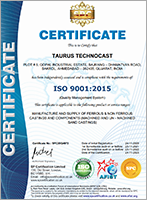 Latest Trade Offers
We are the leading manufacturer, exporter and supplier of..